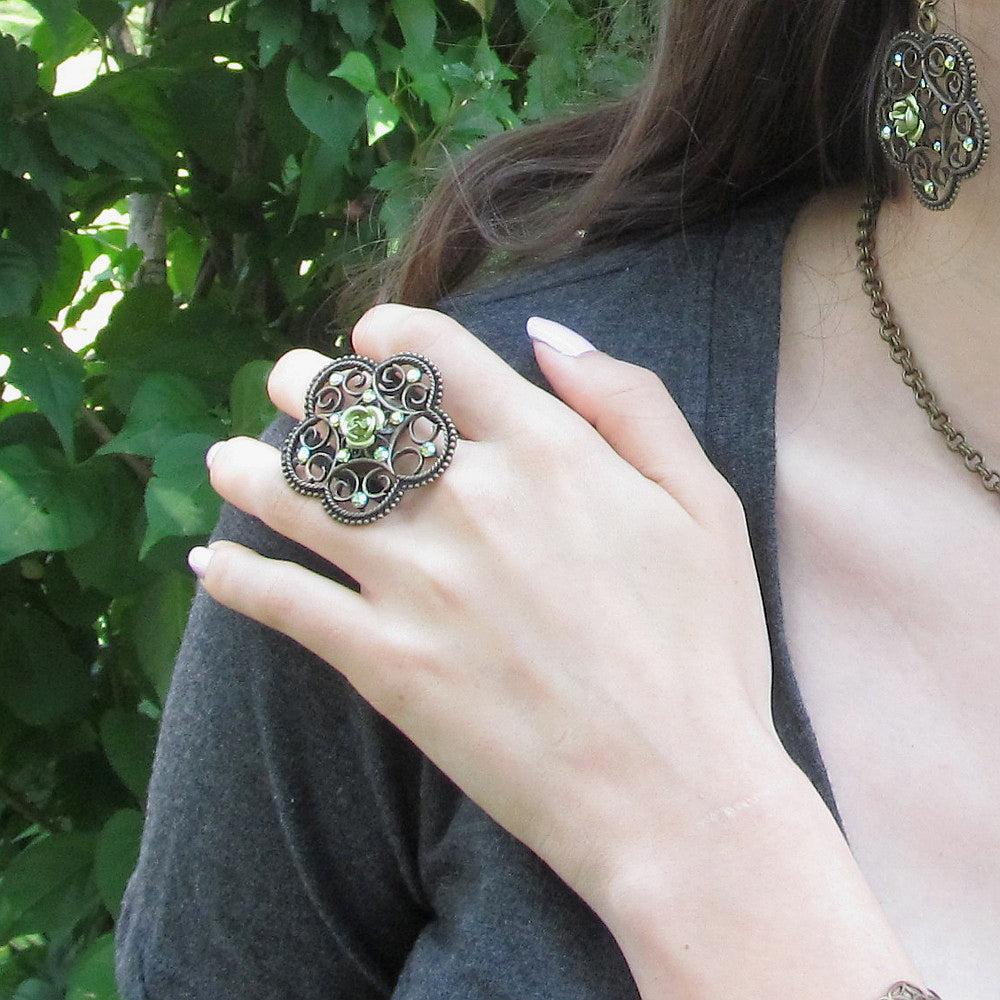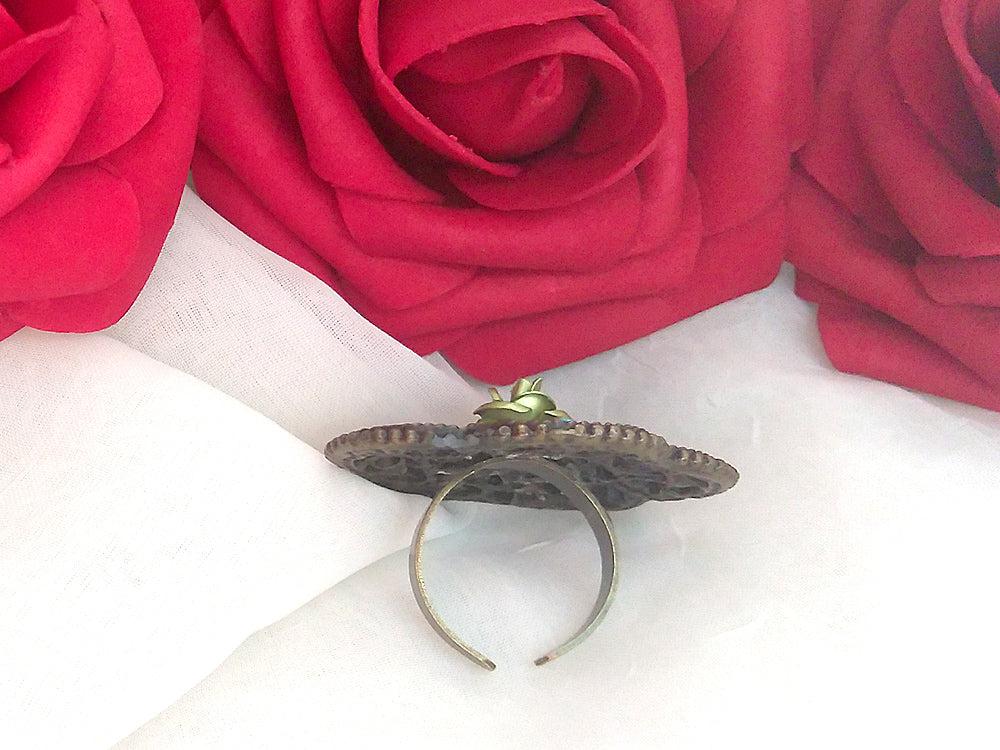 Uniquely Different. Uniquely You.
You don't like getting lost in the crowd and with this outstanding ring on your finger, you're sure to get noticed time and time again.
An extraordinary woman deserves extraordinary jewelry, and this ring will make you stand out in a class of your own.

❃ Gemstone: Features genuine Swarovski® Peridot and Peridot AB crystals - known to be the highest quality rhinestones in the world.
❃ Metals: Antiqued brass filigree metals will not tarnish and will never need to be polished.
❃ The beautiful green flower adds instant femininity and romance to your day.
❃ The ring is adjustable and fits ring size 6 to 9 and will fit most women. You can wear the ring on different fingers each day!
❃ The ring measures approximately 1 1/2″ x 1 1/2″.
❃ See below for our matching necklace, bracelet, and earrings!

Want 25% off your order? Click here to get your code.
--
Easy returns! Just let us know and we'll send you a return shipping label. Click here to read our returns policy. 
Click here to see other jewelry pieces
Every piece comes beautifully gift boxed!
Large Flower Statement Ring for Women with Swarovski® Peridot Crystals
Make a statement of style and elegance with this bold Victorian-inspired ring.
The romantic flourishes are inspired by the Victorian filigree jewelry of the early 19th century.
This head-turning piece is impressive and attention-getting.
Green symbolizes life, renewal, nature, and energy.
Want to learn more about the Victorian era and what it actually was? Click here to read about it.
Shipping:
Order your jewelry today and I'll ship out to you within 3 business days (Monday - Friday) via priority mail.
Ordering is easy! Just click the add to cart button and purchase with a credit card or PayPal.
Why buy from us:
You're too extraordinary to wear mass produced jewelry.
You deserve handmade jewelry that is made with you in mind, and that expresses your unique style!
Swarovski® crystals are recognized worldwide as the highest quality crystal gems in the world.
Every piece in our shop is

FAQ's (answers to all your questions)


Facebook-f


Pinterest


Instagram

Oh my goodness, this is absolutely gorgeous! I love it! It's almost as if it belongs in Downton Abbey! Rachel was so sweet, I asked her to combine 2 pieces from her shop and be sure it had a pink flower. She did!
Joy Roberts
A gorgeous piece, that came *beautifully* packaged, incredibly quickly. Thank you so much!
BlairCl
I got my ring last week and I absolutely LOVE it! It's so beautiful and it fits perfectly. Communication with the shop owner was great, my order arrived quickly and the packaging was stunning. I will definitely be ordering more jewelry soon!
Brandi Jones
· • —– ٠ ✤ ٠ —– • ·
Do you accept returns?
I do! 
Please contact me within 30 days of delivery so I can help you out.
I'll then email you your return label. 
Please send the jewelry back in the original gift box you got it in.
If you still have the protective bubble wrap I used, I'd appreciate if you could wrap the jewelry to protect it on its journey back.
You'll get a refund for the purchase price of the item(s) once I receive them and confirm that they are in their original and undamaged condition.
My return policy lasts 30 days. If 30 days have passed, unfortunately I won't be able to offer you a refund or exchange.
But - always feel free to email me to see if I can help you in any way! 
Read my return policy here.
· • —– ٠ ✤ ٠ —– • ·
Why should I buy my jewelry from you?
Having a personal relationship with your jewelry designer is special. I love the friendships I make with my customers. Some have even become friends!
When you buy from me, you know you can reach out to me and that I'm here for you with any questions, needs, support, and pretty much anything else...
Each piece I design and create is handmade by me and is completely unique and exclusive to YOU. 
If you fall in love with a piece but want something slightly different - just ask and I'll let you know if it can be done! 
· • —– ٠ ✤ ٠ —– • ·
What metals do you use?
Most metals are antiqued pewter/silver and brass/gold, which means the metals are oxidized to give them an antiqued Old-world patina. Sometimes I do use metals that are not oxidized like rose gold.
I do offer options for ear wires if you're allergic such as gold filled, sterling silver, surgical steel, and clip ons. You can choose your preference in the drop down list of every earring.
· • —– ٠ ✤ ٠ —– • ·
What is gold filled (vs gold plated)?
I only use gold filled ear wires (not gold plated) so that you get the best quality available. 
This blog post explains the difference. 
· • —– ٠ ✤ ٠ —– • ·
Gift wrapping and packaging
You don't need to ask for special gift wrapping. I send your jewelry in a beautiful gift box that will be completely ready for gift-giving. And if you bought it for yourself, that's a gift too! :-) 
· • —– ٠ ✤ ٠ —– • ·
How should I care for the jewelry I purchase from you?
I send care instructions with every order so you'll know what to do and what not to do to make sure your jewelry lasts many years.
Read this blog post for the instructions 
· • —– ٠ ✤ ٠ —– • ·
What are your ear wire options?
You can order your earrings with antiqued brass or silver ear wires, gold filled ear wires, sterling silver ear wires, surgical steel wires, or clip-ons. 
The surgical steel posts are 316L implant grade surgical steel and are intended for use on the body.
Customers with metal allergies do well with the surgical steel ear wires.
· • —– ٠ ✤ ٠ —– • ·
Inches to centimeter conversions
My measurements are in inches. Here is the cm length conversion for your convenience:
1" = 2.54cm
1.5" = 3.8cm
2" = 5.08cm
2.5" = 6.35cm
3" = 7.62cm
3.5" = 8.9cm7" = 17.8cm14" = 35.5cm
16" = 40.64cm
18" =45.72cm
· • —– ٠ ✤ ٠ —– • ·
Can I customize a piece of jewelry?
Depending on the piece, I can sometimes modify a piece for you.
Click here to email me and I'll do my very best to help you get exactly what you want!
· • —– ٠ ✤ ٠ —– • ·
How long have you been designing jewelry?
I began designing in my early 20's, so that's more than 25 years now.
 My designs have been sold in upscale boutiques in over 100 stores along the United States East Coast and internationally as well. 
Read more about me (Rachel Flam) here.
· • —– ٠ ✤ ٠ —– • ·
How can I get free shipping?
For a free shipping coupon, join the Enchanted Circle VIP member group right here. 
· • —– ٠ ✤ ٠ —– • ·
What's the best way to contact you Rachel?
Just click here to email me or email rachel@rachelflamdesign.com